RESIDENCE ARDEA: A PASSIVE building, at the cutting edge of energy (80% energy saving), photovoltaic panels, blinds, rainwater recovery, etc.
From the studio to the 3 bedrooms, decorated with large south terraces overlooking the inner garden.
Sennecity
Central Brussels
17 apartments, 6 duplex, 1 house
2009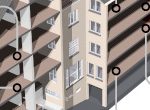 Bara 6
6 rue Bara, 1070 Brussels
7 bright and comfortable apartments ranging from 93 to174m2
2009
L'Arsenal
6 avenue des Volontaires, 1040 Etterbeek
Amazing residential building with 32 apartments
Reflect the pavilion style of the former Arsenal du Charroi military site
2009
1040 Brussels – Near the EU Institutions
10 Luxury Apartments with 2-4 bedrooms
2006
1150 Woluwé Saint Pierre
Exceptional development of 61 single family houses
2004 – 2005
Les espaces de vie sont baignés de luminosité grâce aux terrasses et jardins, rendant l'intégration à la nature environnante plus appréciable encore. Les espaces verts, à proximité des Jardins de Delta ou intégrés aux immeubles, sont autant d'invitations à l'évasion et au dépaysement durant vos loisirs.
La Vivante. Located in a sought after area, near the Place St job, this project features large spaces, and amazing terraces in a very green environment. The project is composed of several apartments including 2 and 3 bedroom duplexes with 2 bathroom, fully equipped kitchens, cellars and parking. All apartments have quality fittings.
Avenue du congo 6-8 1050 Brussels
HIGH CLASS BUILDING IN THAT PRIVILEGIOUS AREA, next to the BOIS DE LA CAMBRE. Very fancy facade. 2 and 3 bedrooms apartments.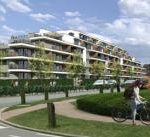 Av. Olieslagers 1150 Woluwe-Saint-Pierre / Sint-Pieters-Woluwe
Project with a very fancy facade offers 53 standing apartments from 85 till 193 sqm facing S – O Nice groundfloor apartments with garden and luxurious PENTHOUSES.
Parkings and cellar available. Kitchen and bathroom at your choice. In the same project, 9 single family houses with 4 bedrooms, terrace and garden.
At 2 steps from PLACE DUMON, the shops, market and metro.
Rue Crespel 18 1050 Brussels
Harmonious design that blends in with the surrounding environment. The exterior design of the ground floor is contemporary yet stately whilst the other floors open and bright.
Unique project composed of 2 office spaces, 28 apartments and 2 amazing duplex penthouses in this new building of 5 floors with underground parking.
Modern design focused on energy efficiency and sustainable building techniques.
OLEA1160 – Congregation 3 – Boulevard des Invalides 1160 Auderghem
Avec 11 studios, 8 appartements 1 chambre, 42 appartements 2 chambres et 10 appartements 3 chambres, les résidences Oléa & Castanea qui composent Les Jardins de Delta offrent un lieu de vie alliant confort, espace et sécurité. Moderne, très agréable, bénéficiant de finitions de haute qualité, chaque entité est remarquablement bien agencée. Ceci est le fruit d'un cahier de charges réfléchi, axé aussi bien sur la luminosité que sur l'optimalisation de l'espace. Vous vivez dans une atmosphère qui vous correspond tout en jouissant d'un cadre unique, verdoyant et résidentiel.
Own a piece of history: the Prince Baudouin Barracks are being converted to a unique residential project. A mre 5 minute wlak from the EU institutions, the Alexander's Plaza is composed of 4 restaured pavillions and one newly built building. The project offers studios, 1-2-3 bedroom appartments, duplex appartments as well as commercial property.
Both aesthetically and technically, the project "Parc du Hamoir" combines prestige and quality. Excellent finish, the space breathes superior comfort and serenity, at five minutes from the city and activities. Choose for a life that is calm and peaceful, tucked away in a gated site with professional security, while conveniently only five minutes away from the city centre. The must of living in Brussels.